The link between your company and
the Eastern European market
---
Our Goal: improve communication between flower production companies and Eastern-European florists to create demand for specific flowers and brands. Through communication, participating producers increase demand for their flowers.


Read more

Our main activity is "in-store marketing" in the Eastern European wholesale companies. We do this through big TV screens that are situated at Eastern European flower-wholesalers. They play the Distance Marketing presentation. By showing your commercial message in this presentation, you can bring your products under the attention of wholesalers and their customers 365 days of the year. There is no limit in the number of new messages that you can communicate. This way you can always show your newest varieties and commercial messages in the market.



How does In Store Marketing work?
---
The essence is the Distance Marketing TV-presentation. You can buy time from our presentation to show your message. Your promotional time will be played more then 40.000 times per week in the different Eastern European Cash & Carry's. By doing this, your promotional campaign reaches many thousands of florists in the different metropoles in Eastern Europe. It is possible to constantly update your message in combination with the name of your farm and brand. This way florists are constantly engaged with your information and inspiration which is branded with your logo. They see how they can use your product, or the story behind it. In many cases, this leads to an increase in sales.
* If space available (the presentation is limited)
"In our opinion, good information sources in wholesale companies is very important. In store marketing through television screens is a good additional service. This way the customers can see what kind of flowers from which growers they can buy at our exporting companies. This new development gives growers the opportunity to be different and is a "win-win situation" for the whole chain."
Marco Vermeulen
Director flower wholesale department, Dutch Flower Group
"By using the most modern techniques Distance Marketing knows how to bring the specialties from breeders and growers together with the demand from the florists to beautiful flowers. Independent Distance Marketing is helping the whole chain from grower to florist to sell more flowers."
Piet van Kampen
Commercial Director, De Gooijer International
Uses the Pull-marketing strategy
---
Our activities in Eastern European Cash & Carry's create demand from the bottom of the chain. We aim at creating interest in your products, which the florists and wholesalers can order immediately.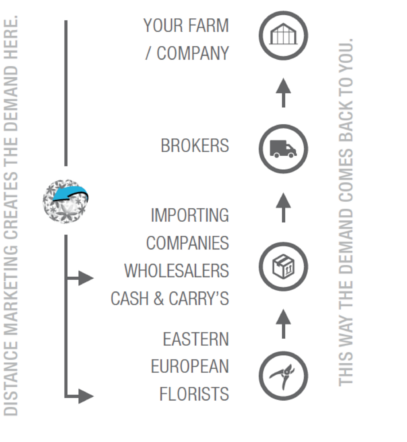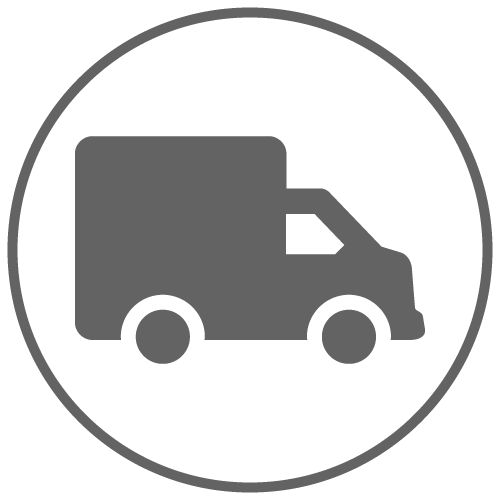 Brokers
Read more about brokers
They are buying what their customers abroad are ordering.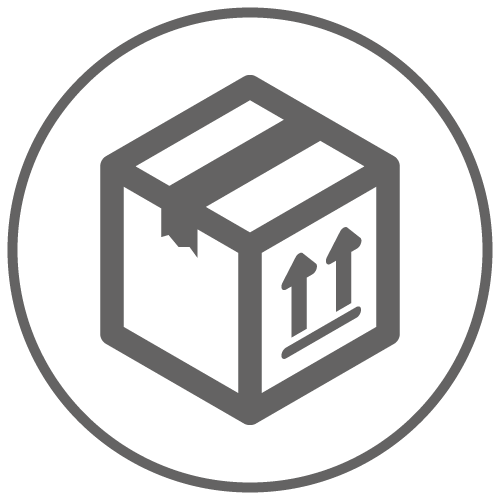 Importing companies / Wholesalers / Casy & Carry's
Read more about importing companies
They order what the florists are asking for.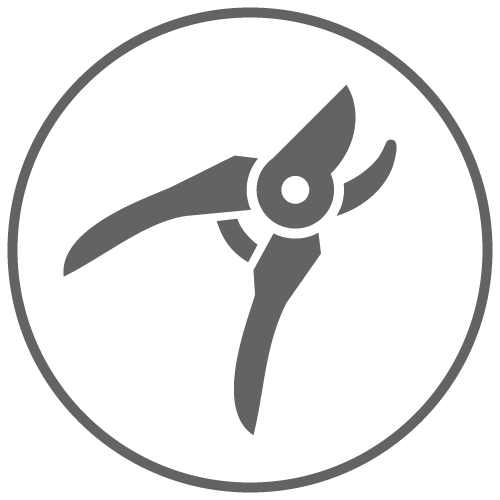 Eastern European Florists
Read more about florists
Talking with florists, we see that they order products which they know well. But florists have limited knowledge of what is available around the world. They are depending on what the Cash and Carry offers them and what information they manage to get theirselves. Florists are seeking for information about what is available and how they can use it to come up with refreshing flower work. When we analyse the supply chain, we can draw the following conclusions:
Florists want to be informed, to make nice bouquets etc.
Cash & Carry want to inform their customers, to create extra sales opportunities
As a producer of flowers you want to show your commercial message on the end of the chain to create demand for your products and brand. This is the pull marketing strategy that was mentioned earlier.
Using the pull-marketing strategy
Use in-store marketing to make sure that the Eastern-European traders know your products, brand and specifications. By surprising the florists every day with new inspiration regarding your product and brand, you can create demand and you are building your brand every day again! "The power of marketing is to repeat!"

---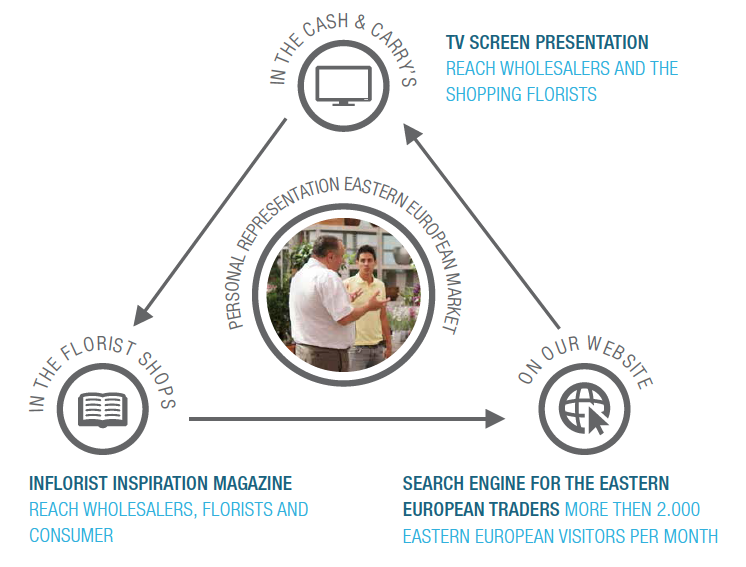 ---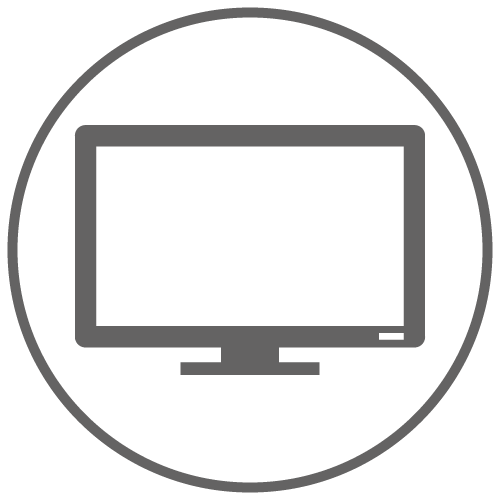 In-store communication: TV screen presentation
Read more about the presentation screens
Through the Distance Marketing presentation you are always present in 79 wholesale companies.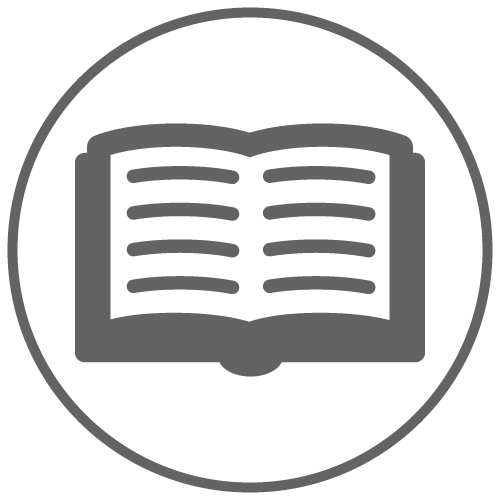 InFlorist Inspiration Magazine
Read more about magazine
All connected wholesalers receive the InFlorist Inspiration Magazine twice a year. This is a service we started because wholesalers wanted to give their customers a source of inspiration before the 'big flower holidays'. Because of this we bring out two Inspiration magazines per year. The topics are: "Inspiration for St. Valentines day and Women's day" and "Inspiration for the 1st day of school".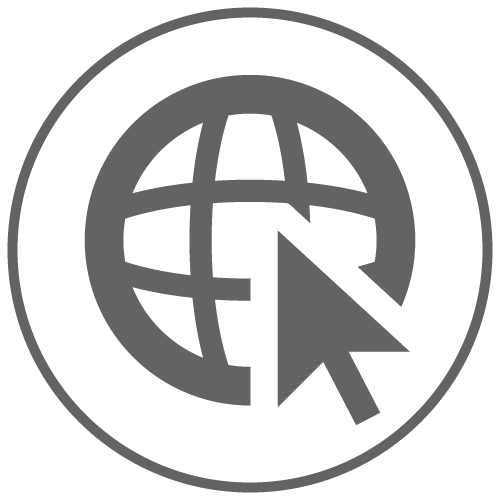 Search engine for the Eastern European traders
Read more about InFlorist.ru
On the website InFlorist.ru you can find all quality brands that are working with Distance Marketing. Therefore, the website has a lot of visitors who are searching for quality products. Inflorist.ru appears first when you google "Flowers and plants from Holland" in Russian out of 630.000 results.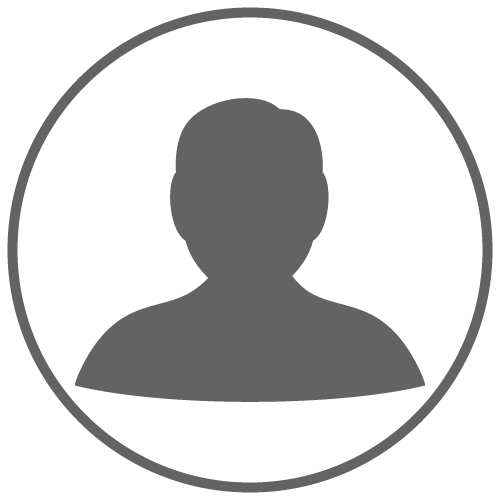 Personal representation
Read more about personal presentation
Distance Marketing makes more than 12 business trips per year to the wholesalers that are in our network. During this visits Distance Marketing also represents their customers.
Distance Marketing work area:
In store marketing is played in all Russian speaking countries like: Russia, Kazakstan, Belarus and Ukraine. The card shows an impression of these locations.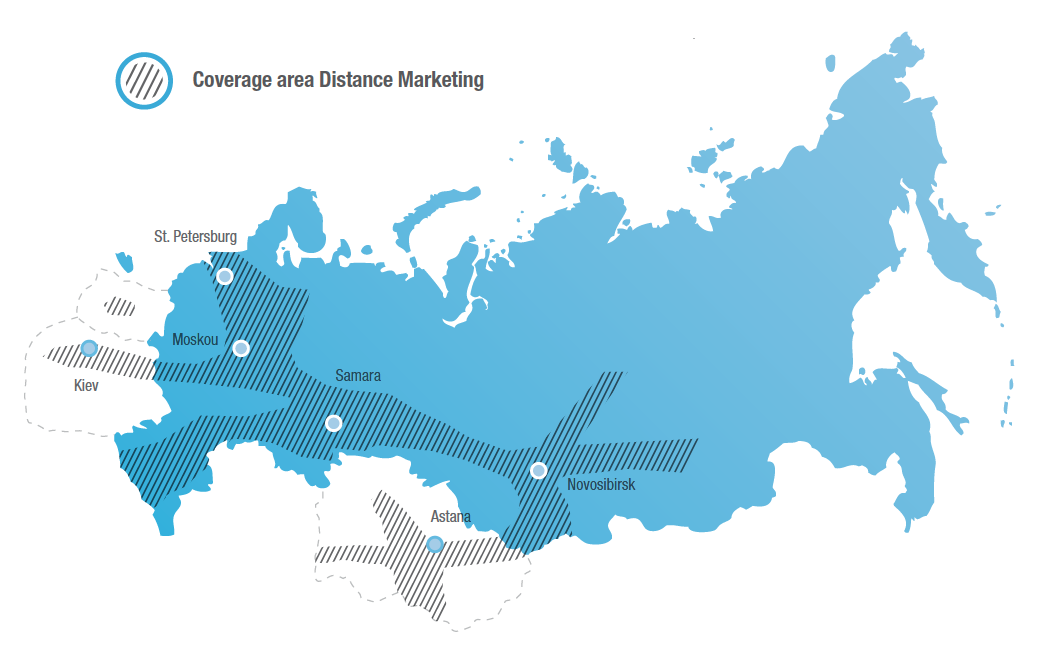 Some numbers about the reach of your promotion:
More then 40.000 views of your company brand every week.
79 connected Cash & Carry's
FloraHolland and Distance Marketing have co-operated to find out the results of the "In-store narrowcasting" performed in Eastern-Europe. Thanks to this close co-operation we found some wholesalers who were willing to show us their sales numbers regarding these promoted varieties. Besides this, FloraHolland performed field research in Russia at these, and other wholesalers.
---
Weekly growth in percentage of general sales and promoted variety sales.
---
---
Total number of ordered stems per week per novelty.
---
As we have seen in the sales statistics, sales started growing after the beginning of the In-Store Promotion. It's clear that the growth in sales of the promoted novelties is bigger then the general growth in sales at this wholesaler (with the exception of International Women's day). In week 7&8 we notice a weekly growth of the general sales up to 200%. This demand comes mainly from the biggest and well known varieties. New varieties do not grow that fast during this extreme holiday. The split-test gives, in all 3 wholesale companies, a clear picture that the sales of the promoted varieties are growing fast. If we compare this with the novelty which was not promoted, we can see a very big difference in de development of sales. The second graph clearly shows how the sales of the promoted varieties grow steadily and that the opposite happens without promotional activities in the Russian wholesale companies.
---
In Moscow, Samara and Kazan we have done  interviews with 300 florists while they were shopping. These florists were asked questions about the presentation from Distance Marketing which is played on the TV-screens inside of the Cash & Carry's. Here you can see the percentage of florists who have answered the questions with 'yes'.
Do you look to the presentation with product information about available flowers inside this wholesale company?

87%

Do you look to it to get some new ideas/inspiration for coming orders?

82%

Do you frequently order products which you have seen on our presentation?

78%

Do you think our presentation contains useful information?

80%

Are the products always available inside the Cash & Carry's?

55%
"Our wholesale company in Moscow uses the grower presentation. Customers who have to wait for a while are looking at the presentation. Our customers always want to know everything and are ordering frequently the products which they have seen on the presentation. This promotion effects the sales on a positive way we can see this from the orders we get." Moses Muse M&M Flor B.V.
"A lot of our customers are using the growers presentation inside their wholesale companies, for growers it's a good way to bring their products under the attention from from our Eastern European customers. I notice that this influences my customers on a positive way, by knowing the products better and selling/ordering them more often." Oksana Shevchenko Sales Eastern-European, Hamiplant